What is Obstacle racing?
Obstacle Course Racing (OCR) is a sport in which a competitor, traveling on foot, must overcome various physical challenges in the form of obstacles. Races vary from mostly obstacles such as American Ninja Warrior "Ninja Races", to track races, to urban and cross country events. In cross country events, mud and trail runs are often combined and the races are designed to result in mental and physical collapse. Obstacles may include climbing over walls, carrying heavy objects, traversing bodies of water, crawling under barbed wire, and jumping through fire. Many obstacles are similar to those used in military training, while others are unique to obstacle racing and are employed throughout the course to test endurance, strength, speed and, dexterity.
The term 'Obstacle Race' includes anything from an extreme trail run to a full-on fest of ice baths, electric shocks and water slides. This includes the well-known blockbuster events such as Spartan Races, Tough Mudders and Wolf Runs as well the more niche events.
At Miracle custom, we specialize in medals for Marathons, Triathlons, Ironman, 5K, 10K, Mud Runs, Zombie Runs & all sorts Running Events – both on a large and small scale.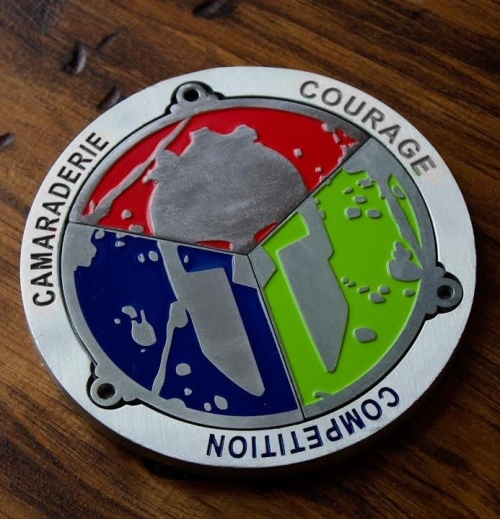 We can help you with the artwork and come up with a design for your special event.
Some event and race organizers will choose to get the same medals and ribbons for all finishers or participants.
We can also make some special ribbons or medals (different size, color, shape, text) for the top finishers
We can also provide age category medals which are of a different size, shape, or color, complete with labels or engraved plates showing how the participants finish in the race.
We can make medals for any type of an event – 5k, 10k, 15k, Trail racing, triathlons, team obstacle racing, mud run, color run, stair-climbing (tower building climb), ultra racing, ultra-marathon, Jingle-bell run, zombie themed run for your life.
If you need information before you buy, you can start a Live Chat with our online sales staff. If Live Chat is not available, you will be directed to an online form to submit an inquiry by email.
Dongguan Miracle Custom Metals Factory
Address: Xiegang Town,Dongguan city, Guangdong Province,P.R.China 523599
Contact: Mr. David Wei
WhatsApp: https://wa.me/8613922792727
Email: sales@miraclecustom.com
Gmail: custommedal@gmail.com
Official site: https://www.miraclecustom.com